Santiago
| | |
| --- | --- |
| | (click on arrow for navigation) |
While survey of our photos, we again realize the extraordinary beauty of the island. Limiting the selection of pictures aches. There is so much more to discover. That's why you should conceive the following photos only as a very small extract. The landscapes burst every format - there's no camera that could catch them.
As an example for the dry and hot climate at the coast the surroundings of Villa Morgana might serve. The harboured bay directly being accessible from Villa Morgana invites to bath, if the pool becomes to placid.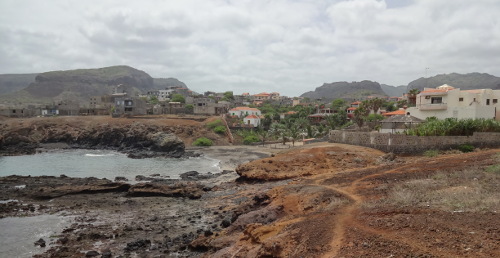 Calheta and Villa Morgana (click picture to enlarge it)
Only one kilometre further there's the farmland of Villa Morgana (barely visible in background you can see Calheta). Thanks to artificial irrigation here's more vegetation. Also the so called Grog is produced here, which has 42 per cent of alcohol, is clear and is made of sugar cane.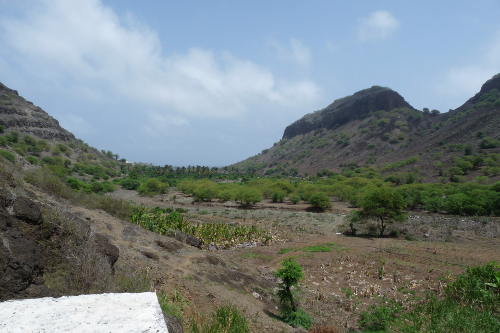 Farmland of Villa Morgana (click picture to enlarge it)
If you are weary of drought and wish green as far as the eye can see, then the near hills around Sao Domingo are a good travel destination. Maize and beans are planted where the slopes are not too steep. They are staple food on the island and you can see them much.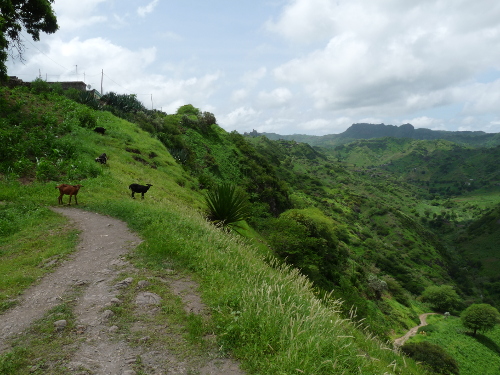 Hills in the north of Sao Domingo (click picture to enlarge it)
If you in contrast like it much more fresh, visit the mountains of Sierra Malagueta and perhaps undertake a well-signposted hiking of two hours. In the late afternoons often clouds are floating accross the mountain crest and create fog, sometimes limiting sight distance of less than 50 metres and causing 10 to 15 degree less temperature. To take a jacket with you might be a good idea. Besides that you shouldn't start too late, not to be caught by sunset.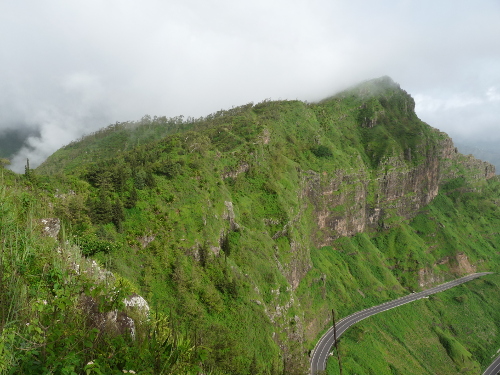 Montains of Sierra Malagueta (click picture to enlarge it)
| | |
| --- | --- |
| | (click on arrow for navigation) |