Welcome to our fan site of Villa Morgana!
Three weeks of holiday on the cape verdian island Santiago in September and Oktober 2014 have made a lasting impression on us because of country and people. With this website we wish to give you a current and realistic picture of the island and encourage you to visit and extensively explore it by yourself. When starting holiday with right expectations and following a few words of advice, in return you will get pure recovery. In a breath your work and personal problems will become forgotten.
On this website you are getting all needed information at first hand and from German perspective.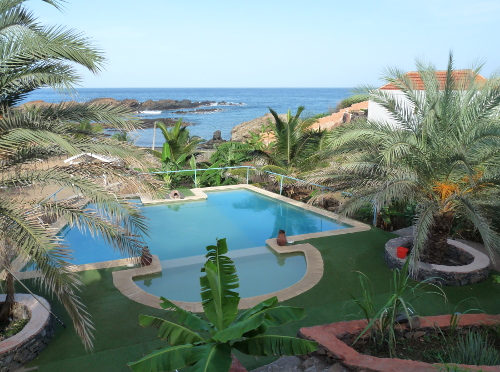 Pool of Villa Morgana (click picture to enlarge it)
For the first, as the most African island of Cape Verde, Santiago offers a completely different surrounding than European people are used to. Especially the coast is hot and dry. Living standard is low and many dwellings are improvised. German standards of hygiene are not reached, water is a valuable good and there exists an obvious garbage problem. Furthermore road traffic and behaviour of people and animals seem to be chaotic - particularly if you (such as ourselves) are not a master of Portuguese language.
Nonetheless - never before we have met so many friendly and accessible people. Many speak French or English and gladly offer help. If you consider some rules, you don't need to fear for safety or healthiness. Many things will become clear as soon as you have looked behind the scenes. Along with it there's any amount of undescribable beautiful nature. In the montains it is somewhat cooler and there are a plenty of unforgettable views and prospects.
We hope that you also will fall in love with this island.
Uschi und Juergen Luers