Villa Morgana Resort
The Villa Morgana Resort is a domestic family business. At Santiago it is known to everyone and well-reputed. Most guests come from capital city Praia or from neighbouring islands. Even highest echelons of the government lodge here (during our stay the cape verdian president spent the night in the resort). As on the whole island, European tourists are appearing only barely.
The personnel does everything conceivable to give you a familiar feeling. They have a sympathetic ear for all your interests or issues and are helping in word and deed where they can. Some of them speak English very well, although French is the preferred foreign language. They like to give a smile and handle tourists matey. A tip for that is not expected.
If you are seeking talks, then you will learn much about country and life of people. How much they earn? How the family life looks like? Why in many villages the garbage is dropped down the slopes?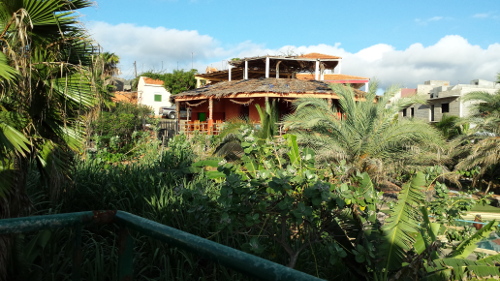 Restaurant of Villa Morgana (click picture to enlarge it)
Journey
The Villa Morgana Resort is located on island Santiago in village Calheta de Sao Miguel - shortened Calheta. It takes about one hour to drive from capital city Praia. About 4 kilometers before Sao Domingos, after a bend to the left a signless street branches to the right that traverses village Milho Branco after 2 kilometers. Directly in front of Pedra Badejo there's a roundabout where you should go straight on through the tunnel. At the next roundabout go diagonally opposite straight on.
It's easy to overlook the approach way to Villa Morgana. About 50 metres after place-name sign of Calheta directly in front of a low wall by the side of street on the right drive down the stoned way.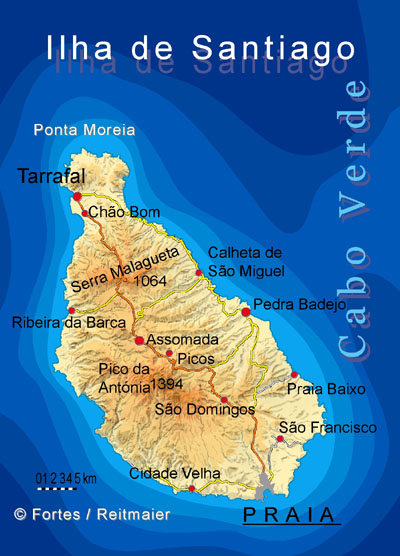 Map of Santiago (released under the GNU Free Documentation License)